Precise, Powerful, Petite
The new PrecizionHALO packs a number of features into its small, compact design and works with smart lighting driver Xitanium SR for low energy consumption and high performance. The PrecizionHALO  is an energy saving, Zhaga (Book 18) approved, photocell with design features that have been optimised for the latest generation of LED low power drivers & connectors. (DALI compatible)
Eco-system
The PrecizionHALOworks within an Eco-system of components to deliver harmonious functionality, installation and upgrade solutions. Connecting with Zhaga Book 18 approved components, the PrecizionHALO works to a standard specification to enable the integration of IoT technology within outdoor LED street lighting furniture.
Using micro processor technology, the photocell (PrecizionHALO) sends signals to the SR Driver, via a 4-pin connector base. The recommended pin assignment enables a 24V DC power supply, as well as DALI control and a general Logic Signal Input (LSI).

The photocell securely locks into the base connector to IPX6, via a simple twist and lock system. This enhances installation, reduces maintenance requirements and simplifies upgrade processes, meaning future replacements can be installed in an instant.

The SR Driver provides power directly to the PrecizionHALOwith SELV product classification, removing the requirement for mains power connection.
By incorporating all components within an independent eco-system, modules with a much smaller footprint can be developed to increase luminaire design flexibility. 

Collaboration

This pioneering eco-system is only made possible through collaboration. Working with a number of collaborative partners (TE, Philips & Zhaga), a solution has been developed to deliver an industry standard that will drive the adoption of intelligent street lighting products and systems.
It is only through working with industry professionals that Lucy Zodion was able to understand the requirements of the photocell and how its design will effect all other components. Additionally, with the ratification of Book 18, it means all members of the Zhaga consortium have a single reference point of standardisation requirements, to base their solutions on.

As technology advances and requirements change, Lucy Zodion is confident that through collaboration it can continue to develop industry leading photocell technology that works within this universal and widely used standard.
Design
The PrecizionHALOis the first photocell available in the market to work with the SR Driver and Zhaga approved (Book 18) base connectors. Its robust and compact design positions components into the underside of the unit, improving durability and increasing life expectancy
Working harmoniously alongside other Zhaga approved components, PrecizionHALOhas been designed to fit in smart outdoor luminaires in preparation for future, smart technologies. The PrecizionHALOworks alongside a socketed twist and lock receptacle for minimal tooling requirements and enhanced installation efficiencies.
The photocell, socket and driver work together to form an interface that communicates, enhancing lighting control and data collection. The photocell module offers sensory inputs while also communicating with other luminaires in a network – only made possible through the SR driver.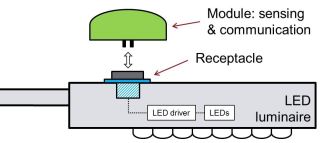 Zhaga (Book 18)
The latest Zhaga specification defines a standardized interface between outdoor LED luminaires and modules for sensing and communication, bringing the Internet of Things  (IoT) to the outdoor lighting market via smart, upgradeable, future-proof fixtures.
The Zhaga Consortium has finalized a new specification that helps to bring IoT to outdoor LED lighting fixtures. The specification, Zhaga Book 18, makes it easy to upgrade LED fixtures by adding or changing 24V sensor or controller modules that provide sensing and communication capabilities.
Smart LED lighting fixtures with sensing and communication capabilities can significantly improve the efficiency, maintenance and running costs of outdoor lighting networks. In this period of rapid IoT evolution, there are many unanswered questions about the correct choice of sensing technologies and communication protocols that future smart-lighting networks will require. However, outdoor LED lighting fixtures are being installed right now, with an expected lifetime of around 20 years or more, and the cost of retrofitting can be prohibitively expensive.

Zhaga's Book 18 solves this dilemma by enabling future-proof luminaires to be easily upgraded as technologies evolve. Book 18 defines a standardised interface between a receptacle on the exterior of the LED luminaire and a sensing and communication module PrecizionHALOthat fits into the receptacle. The standardised interface means that the module can be easily replaced in the field, allowing the luminaire to be upgraded according to new smart capabilities. Also, the luminaire can be shipped with a blank cap in the receptacle, allowing a module to be field-installed at a later date if required.
Book 18 defines the mechanical interface between the module or cap and receptacle. However, many non-critical aspects are unrestricted by the specification, allowing vendor differentiation and design innovation. The specification has recommendations for the electrical interface, which features a 4-pin connector. The pin assignment enables a 24V DC power supply, required by some modules, as well as DALI control and a general Logic Signal Input (LSI).
Book 18 offers a number of advantages compared with the existing ANSI/NEMA standard C136.10-2010. This describes locking-type photo-control devices and mating receptacles, and is used mainly in the USA and the UK. Book 18 enables modules with a much smaller footprint, which in turn will allow greater design flexibility for the luminaire. Also, the Zhaga specification uses 24V rather than mains voltage. 
Want to knwo more about Zhaga Book 18 and the Eco-system in which PrecizionHALO works alongside?