Power distribution equipment has long had an important role; supplying power for street lighting infrastructure and other electrical urban assets. As urban planning and architecture projects evolve with the changing landscapes of the city, there is a growing requirement for bespoke power distribution solutions that are specially designed to specification. 
From pre-wired enclosures that are ready to install upon delivery, to solutions that challenge convention to take on a completely new form, we can offer a wide range of services to ensure your power distribution requirements are met.
Before you start your bespoke pillar journey with us, there are a few elements we usually ask you to consider. This will ensure we can develop drawings that match your requirements, as well as help you to better understand any electrical components or materials that might have been overlooked previously. Our design team can then create accurate technical drawings that match your specification, for swift sign off and build.
Do you want to use a standard pillar shell or do you have special sizing/material requirements?
One of the first things we ask our bespoke pillar customers is whether they know the size of the pillar they require. We have a wide range of standard pillar shells in a number of sizes in-house, which means we can populate a pillar to your electrical specification using readily available enclosures for quicker lead times, of approximately 3-4 weeks. You can find more information on our standard pillar range under the 'Steel Pillar' category
Or in our dedicated catalogue here
If you've got a bespoke requirement regarding the size or material you'd like your pillar shell to be made, we can also help. We've got a wide range of material and finish options for you to choose from. However, depending on the material, lead times may be considerably longer – which should be a consideration when planning your project. Our Design Centre can advise on lead times for specific materials and sizes. Material Options are below:
Mild Steel hot dip galvanised to BS EN ISO 1461
Mild steel hot dip galvanised to BS EN ISO 1461 followed by a pre-treatment then painted grey RAL 7012 as standard
Stainless Steel
Glass Reinforced Plastic (GRP) available in RAL or BS finished, as required, with an off-white finish to the interior.
What about finish and thickness?
There are also a number of grade and finish options available, based on the application requirements of the pillar shell and its physical location within urban schemes. These include:
(HDG) Hot Dip Galvanised
(HDP) Hot Dip Galvanised and Painted (Grey as standard) Other colours available on request
(304) 304 grade stainless steel
(316) 316 Marine grade stainless steel (used in coastal or high moisture/salt atmospheres)
304P) 304 grade stainless steel painted
(316P) 316 Marine grade stainless steel painted (Used in coastal or high moisture/salt atmospheres)
Each of these is also available in the following thicknesses:
2.5mm Stainless Steel
3mm Galvanised Steel only
5mm Galvanised Steel only
What are the power requirements of your pillar?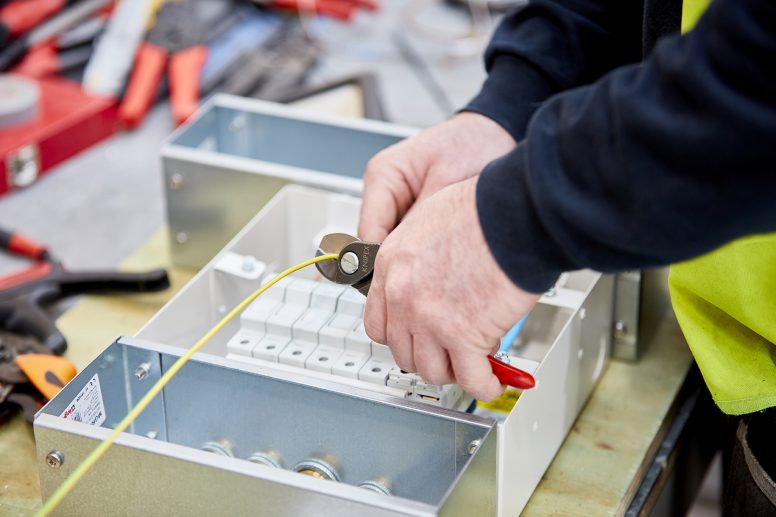 Once you've decided on a preferred size, material and finish for your pillar, the next step is to tell us more about what's going on inside the pillar and the electrical specification we must work towards. This needs to be specified by you in the first instance and, although we can offer recommendations to improve your design if required, we always ensure resulting technical drawings are signed off by the specifier before moving on to the build stage.
One of the things we need to know is whether the supply to the pillar is via a Distribution Network Operator (DNO) or a Regional Electricity Company (REC); the supply will never be from both, so it's important this is specified. This will help us factor in space to accommodate a single phase or three phase cut out on the backboard, which will be installed by the DNO or REC.
Other information we require is detail on the supply current and the type of protection device that is required. This information is also required if the power supply is private. Additionally, there are cable considerations, such as sizing and isolation. We will ask you to provide information on:
Incoming/ outgoing Cable size (mm2)
Cable type (core)
Device Type (Fuse or MCB/MCCB
How many outgoing ways are there?
This will refer to the number of circuits you, or the installer, will be terminating. This depends on a number of variables, from application to the additional accessories you may require. A key thing to consider is the type of supply that will be going out, however, and the types of devices required for fault protection.
It is often helpful for our Design Centre to work from a Single Line Diagram (SLD) or Load Schedule. These documents detail the pillar's electrical specification more precisely and can give the team valuable information to inform a more accurate quote. If you are able to provide this, it will make the process a lot swifter.
If the incoming supply to the feeder pillar is single phase, then you'll only need to specify single phase outgoing ways, however it could be a mixture of single and three phase outgoing circuits if your incoming supply is three phase.
Do you need the enclosure to do more than distribute power?
For power distribution solutions for street lighting schemes, especially in car parks, it's often a requirement to provide a group switching facility that ensures circuits are energised at the same time. This can be achieved in a number of ways, to fully or partially switch or control groups of assets. You can choose a combination of the following or specify an alternative:
Solar Timer
Analogue Timer
Digital Timer
Contractor Switching
We can offer any method of lighting control, coupled with an override switch (if required) so the full (or partial) scheme of outdoor lighting turns on and off at the same time. This can aid energy efficiency, improve public safety and drive down costs by ensuring outdoor lighting is only illuminated when required.
Does the bespoke pillar have any additional features or functions that we need to factor in?
Depending on the pillar's use and application, there may be a number of additional features that enhance it, or further protect it from the challenging environment that surrounds it. For example; in order to keep the internal elements of the enclosure dry and free from condensation, sometimes a heater is specified. These are intended for use where environmental elements subject the pillar to low temperatures, or  where internals are likely suffer from condensate moisture.
We can also work with you to make pillars accessible in alternative ways, with accessories such as internal lighting, RCD protected 13A power sockets or cat flaps. We can also integrate additional locks (Hasp & Staple/Yale) for increased security, as well as detachable roots* and roofs for quick and simple maintenance.
All of our bespoke pillar solutions come with root sections. Usually the root section is buried beneath the ground, but can be utilised for extra cabling room by mounting on a concrete plinth. If this option is chosen, in-fill panels & gland plates must be specified. In some instances we have made these to bespoke requirements too, to aid installation further. If this is a requirement, we will also ask you to provide a little more detail in terms of your desired dimensions.
*single and double door pillars only
Are you ready to order?
If you feel you have all the information you need to request a bespoke pillar from Lucy Zodion, please use our order form to specify your requirements.
If you need any further information about any element of the design or order process, please contact our helpful team, here: