Providing local isolation and protection to the vital electrical equipment that powers urban spaces, power distribution enclosures are important assets inhabiting our streets and highways. Feeding energy to lighting columns and other urban assets, power distribution enclosures have a modest yet vital job in assisting the way a city works. 
Every power distribution requirement is different, which means many times a 'one-size-fits-all' solution is not appropriate. One thing that remains constant is the need for safe, sturdy and secure enclosures that are built to the highest standard for optimum longevity and performance.  There are a number of solutions available to meet such municipal power requirements, especially those commanded by street lighting networks.
Robust and Durable Power Distribution
For a casing that is both strong and secure, enclosures themselves are a vital aspect of street lighting schemes. Ensuring electrical components within the pillar are protected from harsh environmental conditions and guarding citizens from potentially dangerous electrical connections within, robust shells offer an ideal solution for both durability and longevity. For this reason they need to be built and tested to standards relevant to the environment in which they will be used.
From warm temperatures and heavy rain, to vermin and vandalism, as well as hazardous environments and coastal sites, a number of application specific materials can be used to reinforce enclosures while matching the needs of equipment within. For example, Highways England seeks a 5mm thick steel (opposed to the standard 3mm) galvanised pillars.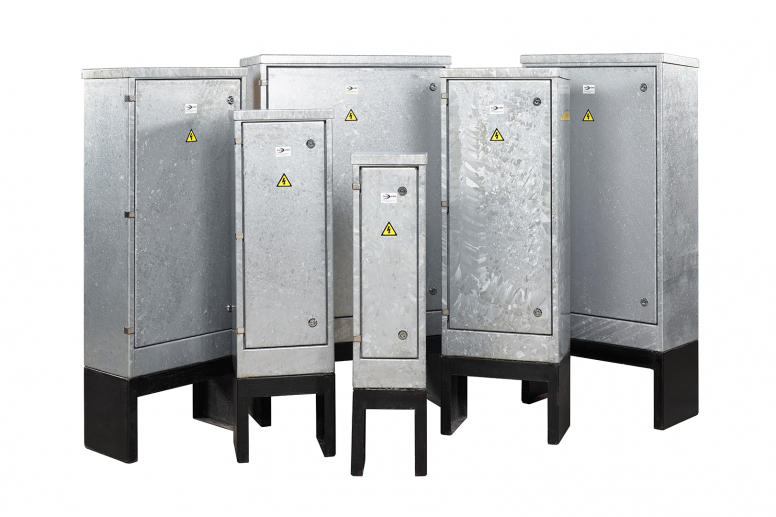 There are a number of materials that can be used to match the function and location of the enclosure, each of these usually conforms to set industry standards. These include Hot Dipped Galvanisation (HDG) to BS EN ISO1461, Cast iron to BS1452 Grade 180 and there are a number of standards to consider for stainless steel applications; Grade 316 (painted or unpainted) for marine applications (304, 3Cr12 shouldn't be used), Grade 304 for general purpose environments (painted if environmental staining would be a concern) and Grade 3Cr12 for general purpose environments, usually these are painted to meet specific finish requirements.
In order to prevent further tampering and damage, additional paint finishes (such as RAL and G2A for highways) and lock variants are available, while flexible design features can aid various installation requirements. Detachable roofs make switching out equipped backboards quick and simple, accommodating lighting upgrades when required.  Enclosure ventilation might also be a requirement, with some commanding anti-condensation heaters that are controlled by a thermostat for low energy consumption.  The possibilities are endless, meaning most specifications can be met.
Temporary In-ground Power
Public spaces today have an increasingly multi-functional use for events and 'pop-up' markets, yet urban schemes are often designed with minimal street furniture. As a result there's a growing requirement for discreet, on-demand power that is instantly accessible. In-ground power distribution offers the ideal solution; suitable for urban regeneration schemes, markets, public spaces, stations and stadia.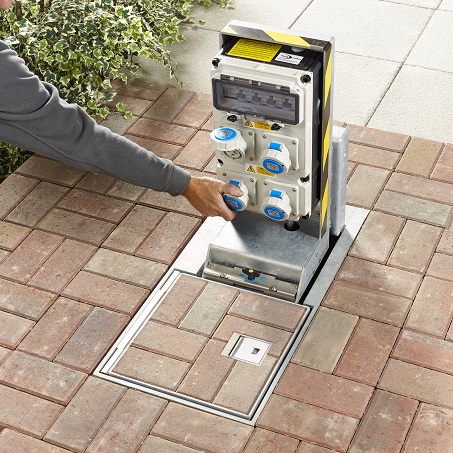 Retractable into the ground when no longer required, in-ground units can be equipped with a range of power outlets to meet various electrical requirements. Furthermore, in-ground pillars are available in a range of standard options, as well as custom designs, making them versatile, robust, easy-to-use and safe. It is becoming more common place to use such units by adding a custom 'cat-flap' for trailing leads, giving direct access to power while remaining in-ground.
Housing various power, monitoring and control products
From EV charging and street lighting, to DNO metering, power distribution is the pulse of urban infrastructure; constantly supplying and protecting power for use throughout modern towns and cities.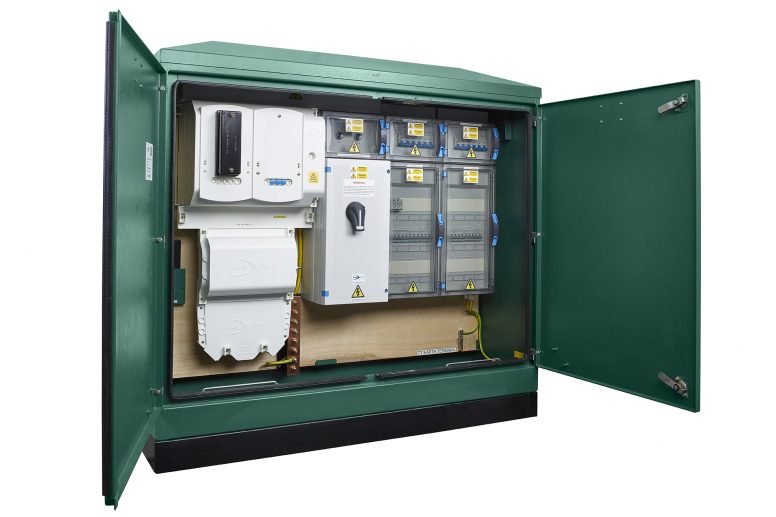 As technology advances, it is fast becoming a requirement to make enclosures work harder. Their existing or recommended location provides a perfect opportunity for the installation of other related items that enhance the way lighting schemes work. From photocells that help control entire lighting schemes, to remote communications systems that gather vital street lighting information, custom enclosures are becoming increasingly popular – converting simple street furniture into power houses of asset management.
Whether it's a solution that helps monitor and control a street lighting scheme, housing electrical components beyond lighting control, or complete electrical circuit monitoring, there are solutions available that meet more complex specifications; these can be custom built prior to delivery and ready to install once they arrive on-site.
Case Study – Power Distribution for flood planes
Lucy Zodion recently developed a bespoke power distribution solution that provides power for carpark lighting in flood prone area Kirkstall Road in Leeds, West Yorkshire. This unique project required an upgraded power distribution system, to replace those water damaged by the floods of 2017.
Lucy Zodion assisted with the project, supplying the Cardigan Fields retail park with a bespoke 2m tall pair of pre-wired power distribution enclosures,  with an IP66 rating to ensure water entry remains to a minimum in the instance of flooding. The 100A three phase DNO power supply ensures outdoor areas are well lit, providing a secure and accessible car parking zone for all that visit the retail park.
The solution is:
Durable – Made from heavy duty stainless steel, the pillar shells are durable to withstand extreme weather conditions, while protecting the electrical equipment within for prolonged use and public safety. As the site is prone to flooding, Lucy Zodion developed taller pillars that elevate components to one meter above ground level.
Safe – With water ingress a key consideration for the pillar designs, Lucy Zodion provided a solution that would protect interior components, even when submerged in water (for up to 30minutes). This was made possible by ensuring the unit offers IP66 protection. Further IP68 glands were installed within the pillar's pre-wired terminals to ensure external wiring was protected once entering the enclosure.
Bespoke – Due to the nature of the project and the location of the pillars, standard products were not suitable for the Cardigan Fields specification. Lucy Zodion helped to ensure units were designed to include:

Lucy Zodion Photocell to control the lighting scheme, with an additional time-clock, should carpark lighting require further programming.
A switch fuse included and distribution section populated with MCB's to power and control supply from the electricity company to the lighting scheme within Cardigan Fields Retail Park.
An internal anti-condensation heater within each enclosure to keep inner components dry, aiding longevity of both the pillar and the devices within.
An LED service light in each pillar, as well as a twin service socket, to aid maintenance when routine checks and upgrades take place.
Lucy Zodion has many years' experience developing power distribution solutions, suitable for use in a range of sectors. Working with each of its customers, the manufacturer is able to offer a bespoke end-to-end service that considers the unique requirements of projects on an individual basis. This is possible due to a commitment to quality and constant innovation.
Lucy Zodion can help to energise urban spaces with high-quality, safe and long-lasting power distribution solutions that meet unique project requirements. With a range of services spanning from bespoke pre-wired solutions to standard enclosures, Lucy Zodion can meet exact specifications while complying with industry standards.
For more information about our power distribution products and solutions, from shells to bespoke and fully equipped pillars, please check out our ' Feeder Pillars' page.