In the lighting world isolators and cut-outs (otherwise known as fused products) have an important job. One that is often taken for granted; putting safety first while protecting streetlighting infrastructure.
Responsible for protecting and terminating a supply cable and providing electrical protection and isolation for the wiring and light on a column, fused products improve safety for those maintaining and upgrading lamppost infrastructure. While making the installation quicker.
UNDERSTANDING THE DIFFERENCES
Recognising a lack of clarity on the subject, Giles Davidson and Robert Ashworth of Lucy Zodion, are on a mission to raise greater awareness; ensuring specifiers understand when and why you would select one product over the other.
From materials used in manufacture, to the way they are engineered to function, Giles and Robert break down the considerations that everyone involved in street lighting should know. Especially those involved in smart city initiatives, where the humble lamp post is more than just a lighting column – but instead an integral asset host to a wide range of applications including air quality monitoring sensors, Wi-Fi, CCTV for public security, and more recently electric vehicle (EV) charging.
CUT-OUTS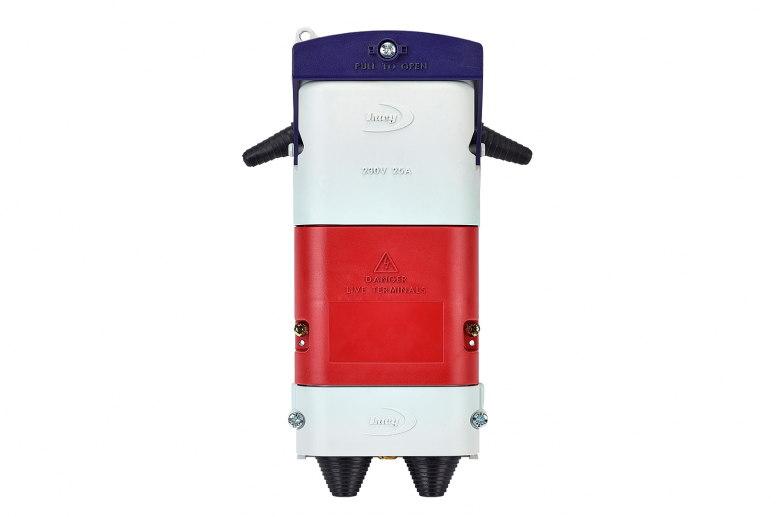 Cut-outs are needed in every Distribution Network Operator (DNO) supplied streetlight in the UK. In addition, they are often used on private networks as the sole method of protection and isolation.  They have their own British Standard, BS 7654, which covers all aspects of the cut-out from its construction (even stating its physical size), to a series of tests relating to temperature, ingress protection, current and mechanical strength. Manufacturers must prove this through an independent certification, which buyers should always ask for.
The cut-out comes with a set of terminal blocks, designed to accept cables up to 25mm².
Where used on private networks (such as a motorway) they are available with a suite of accessories that include extension pieces, brass and plastic cable entry plates to suit different types of cable and to make installation as easy as possible.
The fuse (or fuses) in the cut-out is contained within the cover of the unit, the action of removing this cover disconnects the fuse (so it can be replaced) which also isolates the load from the supply.
Higher quality cut-out designs (such as Lucy Zodion models) have a lever cam action handle on the cover, which improves operator access to terminal connections. Although the supply terminals are isolated in a separate compartment, removing a cover from a cut-out to change the fuse should only be done by suitably authorised and trained personnel.
Available in either single or twin fuse versions cut-outs do not provide the option of using digital timers or RCCDs to control or give additional protection not covered by the standard and, if required, are often included in secondary isolation (provided by an isolator).
ISOLATORS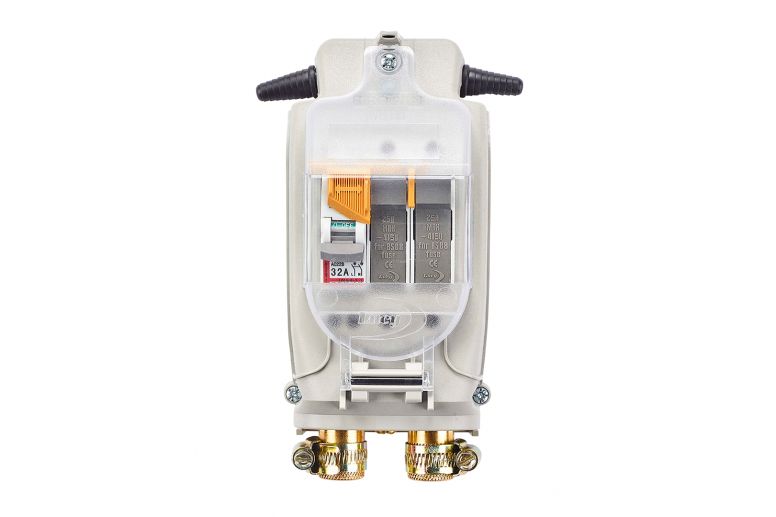 Isolators are used for secondary isolation and add an extra layer of electrical safety; providing isolation without disturbance to the DNO circuit. They are not required in all street lighting columns, but do offer forward-thinking local authorities greater flexibility – including the option to increase the number of outputs (enabling the column to be upgraded in the future).
It's important to note the main body or casing of an isolator isn't covered by the same British Standard as a cut-out, however there are other standards that relate to them, which the switch-disconnector, fuse and fuse carriers must meet.
To assure quality, manufacturers should produce the body to the relevant standard for isolators (BS EN 60947-3 and BS7671) and independent certification should be available.
The isolator includes a switch-disconnector which is operated in order to electrically isolate the load, allowing maintenance and for a blown fuse to be replaced. This makes changing fuses and isolating circuits simple and helps to prevent risk of injury. Additionally, to increase safety, covers can be made lockable. Most isolators have an interlock device that automatically slides over the fuse carrier(s) when the isolator is moved to the ON position, ensuring that a fuse carrier cannot be opened with the circuit energised.
Both isolators and fuse carriers should be independently tested by a third party, in KEMA laboratories or the equivalent, to meet the relevant standards. Factors like a high tracking index and self-extinguishing plastics are vitally important when it comes to safety. As is using a robust and durable thermoplastic enclosure, with high anti-tracking properties.
Well manufactured isolators often have a safe and transparent front access cover to offer clear visibility, reducing the need to open up the isolator.
In terms of flexibility for different use cases, isolators can be thought of just like mini distribution boards.
An isolator usually consists of a 32A Double Pole (DP) isolator switch and one, or more fuse carriers.  Most isolators provide a DIN rail to allow flexibility of configurations, enabling different components to be fitted, e.g. surge protection, MCBs, RCBOs and RCCBs. For example, an isolator can be configured to supply an output for festive decorations by including a digital timer.
Typically, isolators provide space for up to two, three, or four 17.5mm modules, with larger versions available for specialist applications.
A suite of accessories includes extension pieces, brass and plastic cable entry plates to suit different types of cable and to make installation as easy as possible.
Something the installer should consider is that additional terminal blocks sometimes need to be added to the final assembly to aid installation; this, in some instances, can make the isolator assembly quite long in length.
A SURE TEST OF QUALITY
British Standards
Fused products that abide by the British Standards indicate that a company takes its responsibilities seriously. Compliance is often taken as evidence of due diligence and doing things properly. However, it is important to highlight that standards aren't the same as regulations.
Following a standard doesn't guarantee that the relevant laws are met, due to the fact that legislation changes. However, companies that follow the standard do give customers and collaborators confidence that measures are being taken to provide a high level of quality in the products they produce.
For cut-outs the relevant standard for compliance is BS 7654. This is for single phase street lighting cut-out assemblies for low-voltage public electricity distribution systems – 25A rating for highway power supplies and street furniture.
This standard covers the whole of the product and not just parts. From constructional and performance requirements, normal service and mounting conditions over all sizes, the standard requires the designed unit to pass the tests prescribed within it. This is to ensure firstly that the unit is safe.
In reference to the design of the unit – a simple part of the standard gives the layout of the terminals, stating that Phase Neutral and Earth shall be positioned from left to right and viewed from the front, so that an operative will instinctively know their way around the cut-out unit.
A large part of the standard is the type testing that the designed unit has to pass; these tests will prove that the unit will be fit for purpose in service. Tests include:
Terminal torque test
This is a test which proves that terminals have the strength to be tightened onto a conductor to a given torque and to show no signs of cracking or distortion; thus proving its durability in the field.  This assures both good electrical connection, and longevity of the product.
Impact test
The impact test prescribes a method or reviewing the strength of the product to ensure physical integrity is maintained even at freezing temperatures (especially important for thermoplastics often used in electrical housings).
This will prove the suitability of the given material and design; it proves both its durability and that the given materials will not break and create a fault or expose live parts.
Creepage and clearance
To prevent faults, it is important that there is appropriate separation of live parts.  The shortest distance in air between live parts (clearance) and the shortest surface distance between live parts (creepage) is assessed and has to meet strict minimum distances.
Resistance to tracking
Tracking is the propagation of an electrically conductive path along an insulator and all insulating materials used in fused products must be resistant to tracking, there are defined test methods to evaluate these materials.  It is vital to use appropriate plastic to prevent tracking, which otherwise could lead to a serious fault.
Assessing resistance to tracking is an important part of the testing process and evaluates the characteristics of the materials used, as well as their ability to withstand environments similar to those in the field. Without such testing and the supporting certification, safety and performance cannot be assured.
Flammability
The flammability of materials used in the products are assessed to make sure that they prevent propagation of flames, and self-extinguish if lit (e.g. by an external fault).  Test methods vary between standards but seek to ensure that the products remain safe under specific fault conditions.
Hot ball test
The durability and susceptibility of plastics used within the construction is assessed to ensure that integrity is maintained, under specific overload conditions.  The heated ball pressure test simulates a force applied to critical elements of the construction to make sure that suitable materials are used to maintain rigidity even under temperatures likely to be experienced in a fault condition.  The temperature of the ball is defined by the criticality of the elements within the construction of the product.
Temperature rise
Units are operated under specified load conditions to ensure that any rise in temperature due to current flow does not impair the structure of product.  This is particularly important considering fuse-link contacts, as it is important that sufficient contact pressure is maintained.
SUMMARY
In summary, both isolators and cut-outs are an essential (safety critical) part of street lighting installations, and both have their place.
They perform the same function and while the choice between isolator or cut-out is often dictated by the end user, local requirements, or consultant specification, an isolator does bring more flexibility in terms of additional outputs and types of protection.
Importantly, an isolator is more capable of meeting the changing demands of today's smart cities. Future-proofing investment.
One final point. It is worth remembering that both isolators and cut-outs are available to cater for most types and sizes of supply cable, and varying methods of earthing. So, getting the specification and configuration correct (before you get to site) will make the termination of the cable quicker and more hassle-free. And, as we can all appreciate, time is money so it's worth talking to your supplier to get the right product specification first-time.
Giles Davidson is an Area Sales Manager and Robert Ashworth is International Account Manager at Lucy Zodion Limited.
This article also features in the October 2021 issue of the ILP Lighting Journal, which you can view here